Login Page UI Customizer
We know that you love using WordPress and honestly, what's not to love about it. Let's make the WordPress experience even more personalized and creative!
Introducing Login Page UI Customizer!!! You must wonder, is there something that can be done about the login admin page (design-wise..💥). Sounds good, well it looks even better and goes to the next level when you try this out on your website.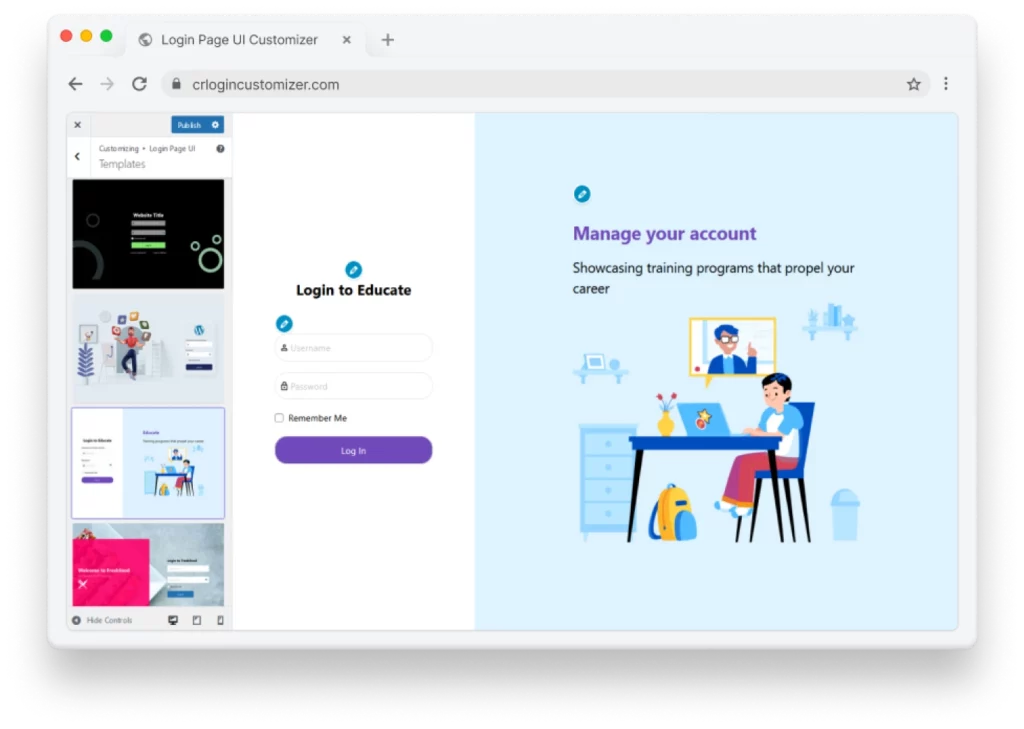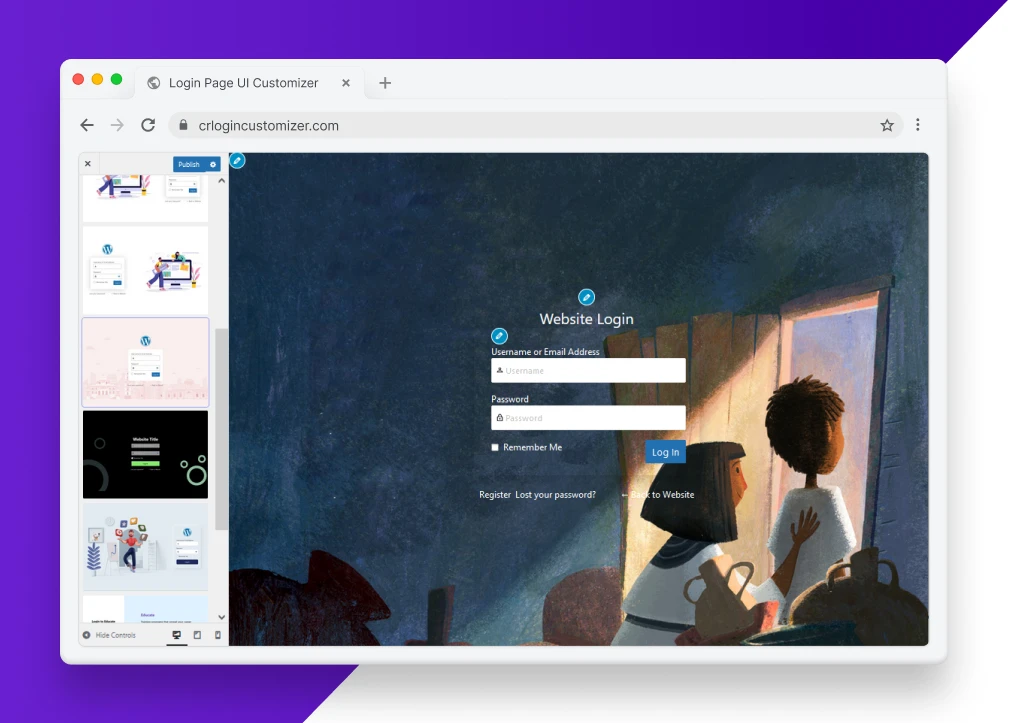 What does the plugin offer?
Aesthetic Inspirations, Modern Designs, and Customizable Templates!
Hey, yes the plugin comes with preloaded templates of art. But, we don't want to keep your inner Da Vinci from unleashing picturesque designs.
Take the control in your hands with easy-to-use and intuitive options, enabling you to select a template and customize the settings, appearance, images, and much more!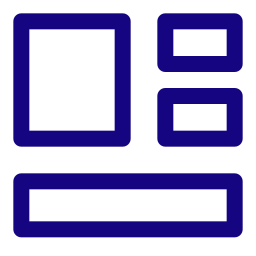 Template
Choose a template of your choice and get creative!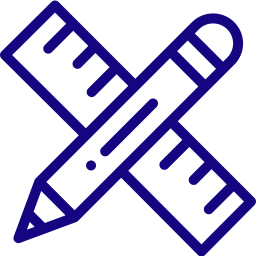 Design
Style your Login page background, columns, and other layouts.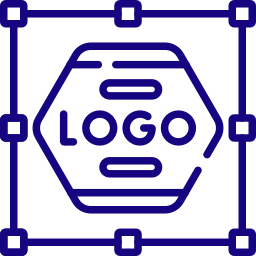 Logo Settings
Show logo (logo upload option), show title (logo title), and hide logo too!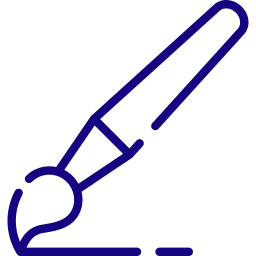 Styles & Appearance
Form styling with controls like label font size, color, and more.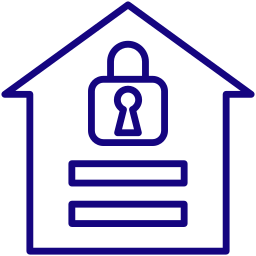 Login Form
Take complete control of your login page, with edit option for the login form.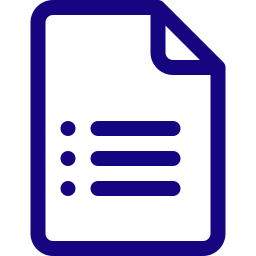 Register Form
Give new users a great experience with a custom registration page!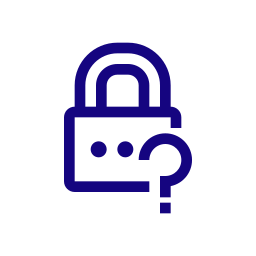 Lost Password Form
Create a custom-made label for the lost password form.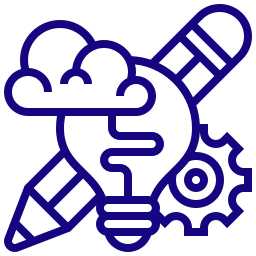 Design Freedom
Create a login page like no other. Design a unique doorway to your website!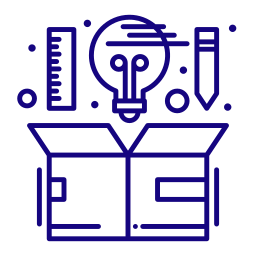 No Limitations
Elevate your WordPress experience and unlock additional functionality.
Settings — Admin
To reset login page customization settings, you can use admin settings as:
Navigate to the Settings menu in WordPress Dashboard under Settings there is Login Page UI menu( Settings▸Login Page UI ).

Click on the Login Page UI menu and use the settings like Remove Settings on Uninstall and Reset Customizer Settings, etc.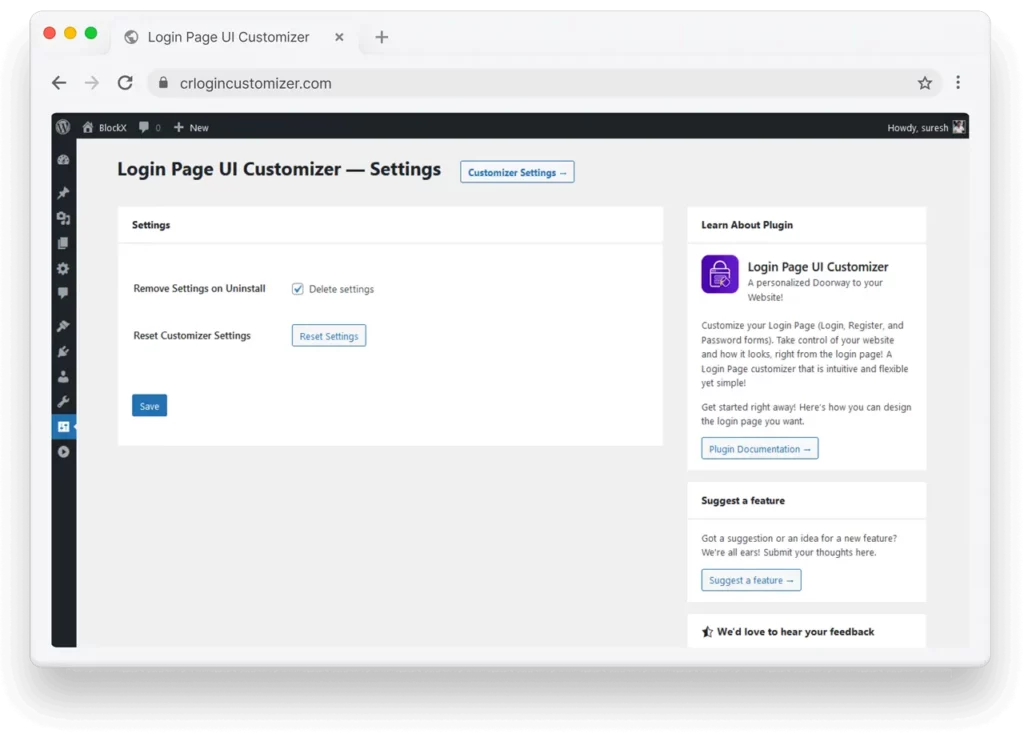 FAQs
No, the plugin does not require any coding skills. However, there is an option to add custom CSS which can also be used to design the page. But, no coding knowledge does not hinder the experience nor it limits the design capabilities of the plugin user.
You can change the text of the Log-in form by provided Customizer option, Customizer▸Login Page UI ▸Login Form Text. You can add or edit the text to give your desired choice of content. And it's done!
You can suggest a change or a new feature to us on our official WordPress page. Or you can write to us at pluginteam@cloudredux.com.
Yes, you can use standard HTML tags to customize your login page content area.
Yes, the Login Page UI Customizer is translation ready. All .mo and .po translation files should go into the languages folder at the base of the plugin.
Plugin supports all MIME types supported by WordPress environment.
Creativity Never Stops, Why Should Customizations?
Get Started with Building your Custom Login Page!
Get to know us. We're just one click away!